Truro, Cathedral Church of St Mary
S4

. Southeast quire transept

Entries in grey are not obtained from documentary evidence, but are inferred from content, context, etc.
Date of manufacture and insertion

Number of lights

4

Maker

Main subject

Adoration of the Magi and scenes from the life of Christ.

4a

.

Angel holding scroll

4d

.

Angel holding scroll

3

.

Adoration of the Magi

2a

.

Flight into Egypt

2b

.

Joseph with Jesus and Mary in his carpenter's workshop

2c

.

Christ tempted by Satan

2d

.

Christ's Sermon on the Mount

1a

.

Christ found by his parents with the doctors in the temple

1b

.

Baptism of Christ in the river Jordan

1c

.

Wedding at Cana

1d

.

Transfiguration: Moses and Elijah appear on either side of Christ

Donor

Dame Elizabeth Truscott, youngest daughter of James Freeman of Turnham Green, London, wife of dedicatee

Dedicatee

Sir Francis Wyatt Truscott, Lord Mayor of London, died

Notes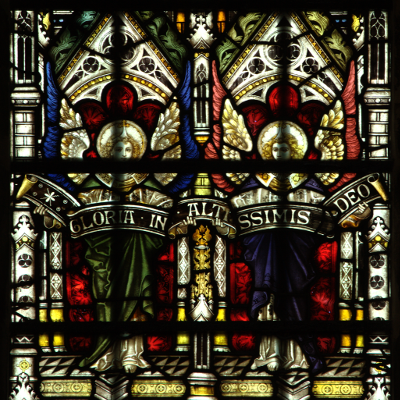 Ecce magi ab oriente vener(un)t Ieros(oly)mam dicentes ubi est qui natus est rex Judæorum. Vidimus enim stellam ejus in oriente. Et venimus adorave [sic] eum. (Behold, there came wise men from the east to Jerusalem, saying, Where is he that is born King of the Jews? for we have seen his star in the east, and are come to worship him). (Matthew 2:1–2)
3. The Adoration of the Magi.
3a

.
Melchior brings a gift of frankincense.

3b

.
The Blessed Virgin Mary and infant Jesus. Behind them stands an angel holding a staff and at their feet are a crown, belonging to Caspar, and a richly decorated vessel, Balthazar's gift of myrrh.

3c

.
Caspar, on the left, brings a gift of gold. On the right is Balthazar, who brings myrrh. Behind them stands Joseph, holding a lily.

3d

.
The archangel Gabriel, the angel of the Annunciation, holding a wheel and a lily.
High-resolution image will start to load shortly …